Press release
8 March 2022
Climate Positive Synthetic Methane Production Starts in the Vaasa Region in 2025
The next phase in the Vaasa region energy cluster cooperation will be the construction of a next generation Synthetic Methane (LSNG) plant at the Westenergy WtE plant site in Mustasaari next to Vaasa in 2023-2025. This project supports Finland's journey towards a carbon-neutral future in line with EU's "Fit for 55" goals, promotes decoupling from fossil fuels and plays a key role in the region's quest for carbon-negative district heating. The project consortium includes some of Finland's top technology providers such as Oy Danfoss Ab, EPV Energia Oy, Stormossen Oy, Vaasan Sähkö Oy, WOIMA Finland Oy and Wärtsilä Finland Oy. AFRY Finland Oy will act as the technical and economic planning consultant for the project, and the consortium will be assisted by the Merinova technology center.
The key technologies in the LSNG production are carbon capture, hydrogen electrolyzer and methanation. WOIMA, in cooperation with Norwegian CO2 Capsol AS, will deliver an innovative modular carbon capture plant extracting CO2 directly out of the Westenergy's flue gas stream. This ccWOIMA plant will capture and inject 20,000 tons of CO2 p.a. to the LSNG process and simultaneously cut 25% of the Westenergy's fossil carbon emissions.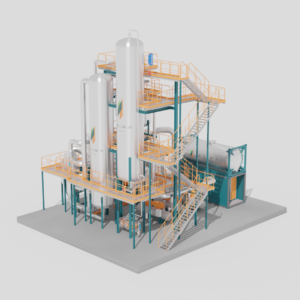 EU is targeting over 40 GW of electrolyzer capacity by 2030. Energy-intensive synthetic methane offers a cost-efficient solution for storing and transporting it utilizing the existing LNG infrastructure. LSNG will eventually replace LNG in power generation and as traffic fuel. The Westenergy LSNG plant will offer a test bed for new technologies and act as a showpiece of Finnish know-how in the field.
Henri Kinnunen, Chief Executive Officer of WOIMA, said: "The LSNG market is rapidly growing to a multi-billion-euro business segment, where carbon capture plays an essential role. WOIMA, with Capsol's energy-efficient carbon capture technology, is well-positioned to deliver the modular and scalable ccWOIMA solutions to this fast-expanding market."
About WOIMA
WOIMA Finland Oy draws on over 25 years of experience in the field of international infrastructure and power generation project deliveries. Now, we are the disruptive force advancing the waste-to-value sector for the benefit of everyone involved. We have developed innovative modular standardized solutions that fit the needs of all different types of customers. They enable the utilization of each waste stream to its fullest potential, either as raw material or as energy. Our pre-engineered and prefabricated solutions support fast deliveries, cost-efficiency in both CAPEX and OPEX, easy maintenance, as well as efficient project risk mitigation.
WOIMA press contact:
Henri Kinnunen (CEO)
+358 40 835 8974
henri.kinnunen@woimacorporation.com
About CO2 Capsol
CO2 Capsol AS strives be a major contributor to solving one of our biggest global challenges; climate change, with their patented Capsol EoP (End of Pipe) carbon capture technology. This patented cost-effective, scalable, and flexible retrofit unit is used to capture carbon dioxide from power plants and industrial facilities.