Tehokkuutta paikalliseen jätehallintaan: Sumitomo SHI FW ja Woima Finland Oy tuovat skaalautuvan ja helposti asennettavan voimalaitosratkaisun jätteen polttoon
Espoo, Vaasa, Tammikuu  13, 2021. Sumitomo SHI FW (SFW) ja WOIMA Finland Oy (WOIMA) ovat allekirjoittaneet sopimuksen modulaaristen wasteWOIMA® -jätteenpolttolaitoksien toimittamisesta. Omistusosuuden lisäksi SFW tuo yhteistyöhön globaalin projekti- ja voimalaitososaamisensa sekä strategisena sijoittana mahdollistaa WOIMAn pääsyn markkinoille.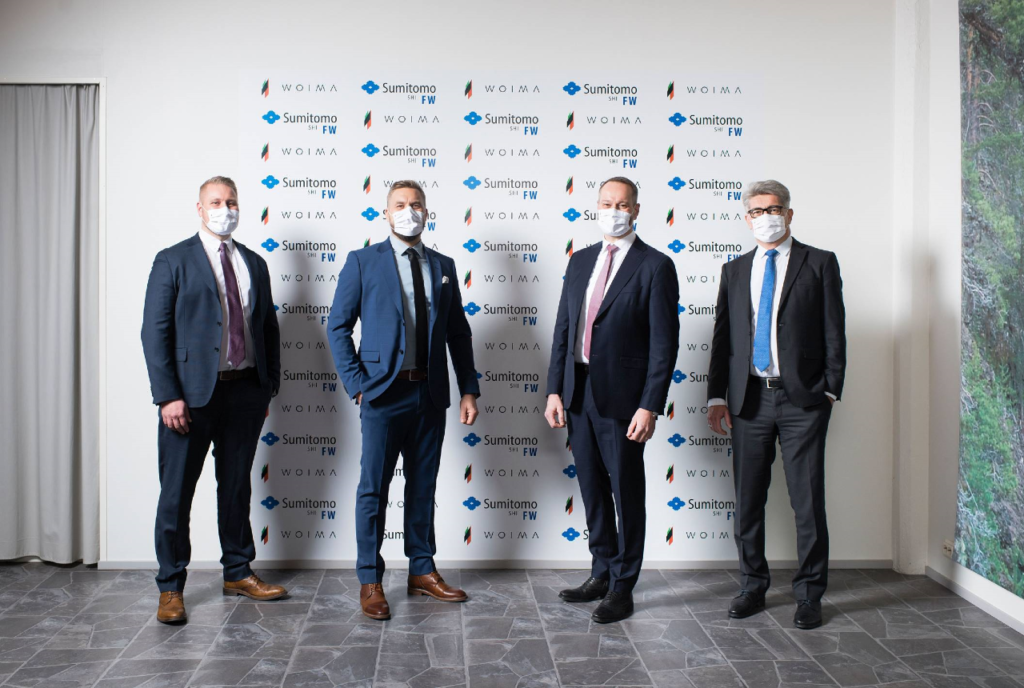 wasteWOIMA®  -laitos on uniikki ratkaisu globaalisti kasvaviin jätteiden- ja ympäristön huollon tarpeisiin – jätteiden hautaamisen sijaan. wasteWOIMA® soveltuu erinomaisesti pienille ja keskisuurille kaupungeille osana energia- ja jätehuollon ratkaisua.
Laitos perustuu todennettuun arinapolttoteknologiaan ja pystyy käsittelemään laajan kirjon eri jätelaatuja vastaten tiukkeneviin ympäristövaatimuksiin. Laitos on suunniteltu ottamaan vastaan 100 000 ‒ 500 000 asukkaan tuottama jätemäärä (30 000 – 200 000 tonnia), joka hyödynnetään sähköksi, lämmöksi tai jäähdytysratkaisuksi.
Konsepti on skaalautuva ja mahdollistaa nopean käyttöönoton: merikonttien kokoisista moduuleista rakentuva ratkaisu voi koostua 1-4 polttolinjasta. Korkea konepajavalmistusaste takaa korkean laadun, kustannustehokkuuden sekä lyhyen toimitus- ja rakentamisajan.  Kehittynyt automaatio ja standardisoidut huollon ratkaisut varmistavat myös erinomaisen käytettävyyden ja alhaiset käyttökustannukset.
Tomas Harju-Jeanty, CEO, SFW: "WOIMA on ratkaisu mailman kasvavaan jäteongelmaan: haaste voidaan hoitaa paikallisesti. WOIMA:n innovatiiviset ratkaisut tulevat osaksi tuoteportfoliotamme ja antavat näin mahdollisuuden palvella nykyisiä ja uusia asiakkaitamme heidän etsiessään ratkaisuja jätteiden hallintaan tai eroon fossiilisista polttoaineista."
Henri Kinnunen, CEO, WOIMA Corporation: "Yhdyskuntajätettä on tarjolla ylenmäärin, mutta edelleen hyödyntämättä joka puolella maailmaa.  SFW:n globaalius ja tunnettuus energia-alalla vahvistaa toimituskykyämme ja pääsyä globaaleille markkinoille."
Sumitomo SHI FW
Sumitomo SHI FW (SFW) on maailmanlaajuisesti toimiva innovatiivisten energia- ja ympäristöteknologioiden, huoltopalveluiden sekä energian varastointiteknologian toimittaja. Tarjoamme ensiluokkaisia energiaratkaisuja asiakkaillemme jatkuvalla panostuksella teknologioidemme kehittämiseen tehokkaammaksi ja ympäristöystävällisemmäksi.
www.shi-fw.com
Frank Ligthart
040 5619612
frank.ligthart@shi-g.com
WOIMA Finland Oy
WOIMAn modulaariset, hajautetut ja skaalautuvat ratkaisut kierrättävät kiinteät yhdyskuntajätteet raaka-aineiksi, sähköksi ja lämmöksi ratkaisten globaalit jätehuolto- ja energiantuotantohaasteet
www.woimacorporation.com
Henri Kinnunen
040 835 8974
henri.kinnunen@woimacorporation.com
LUE LISÄÄ WASTEWOIMA®  RATKAISUSTA

WOIMA Corporation is a Finnish supplier of best-in-class waste-to-value products, projects and services worldwide. We have developed solutions that enable us, and the customer, to transform and recycle virtually any waste stream into raw materials and energy.  At WOIMA we combine Finnish engineering know-how in waste management with power generation design expertise. These solutions are used in Finland every day. They support the circular economy ideology and ensure that less than 1% of Finland's waste ends up in landfills.
Our mission is to improve quality of life both locally and globally, as well as empower people to utilize waste as a commodity. Our decades of international project management experience ensure an on-time, in-budget and high-quality WOIMA solution delivery across the globe.
WOIMA SOCIAL MEDIA ACCOUNTS

---
  WOIMA YouTube channel
  WOIMA LinkedIn page
   WOIMA Twitter page
   WOIMA Facebook page