Press Release
Vaasa, Finland / Oslo, Norway, 26 October 2021
WOIMA and CO2 Capsol to cooperate in developing and delivering modular carbon capture solutions

WOIMA Finland Oy, the developer and supplier of the innovative wasteWOIMA® Waste-to-Energy power plants, has signed a cooperation agreement with the Norwegian company CO2 Capsol AS, a developer of advanced carbon capture technology. The focus of the strategic cooperation lies in the development and supply of small-scale modular carbon capture solutions primarily in connection with the wasteWOIMA® Waste-to-Energy power plant deliveries, or to existing CO2-generating processes.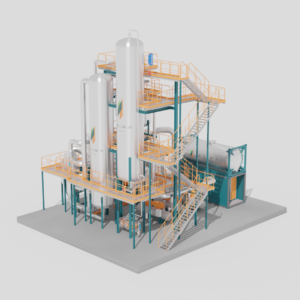 This cooperation combines the parties' unique strengths in product innovation, modular design and engineering, pre-fabrication, and project delivery capability to deliver the most efficient solutions fast and with unsurpassed quality. The cooperation aims at accelerated product development and deployment of carbon capture technology for common target customers. The parties will start the pilot project development immediately.
The Waste-to-Energy market is rapidly moving towards smaller, decentralized solutions, while countries struggle to keep up with the increasing waste generation. Simultaneously, emphasis on climate change mitigation through carbon capture is rising exponentially. With the CO2 Capsol cooperation, WOIMA is well-positioned to deliver completely carbon neutral Waste-to-Energy solutions.
Henri Kinnunen, Chief Executive Officer of WOIMA, commented: "CO2 Capsol's patented energy-efficient carbon capture technology offers us an important missing piece in WOIMA's circular economy solution portfolio. It helps position us at the cutting edge of the waste-to-value market and represents an exciting opportunity to expand our market reach with even environmentally friendlier WOIMA solutions."
Jan Kielland, Chief Executive Officer of CO2 Capsol, commented: "WOIMA, being one of the leading companies with a disruptive technology within the green transition in Finland, fits perfectly with our roll out strategy of partnering up with industrial players. CO2 Capsol's unique carbon capture technology is a perfect match with WOIMA's innovative modular and standardized solutions."
For further information, please contact:
CO2 Capsol
Jan Kielland
CEO
Mob: +47 415 69 974
Email: jan.kielland@co2capsol.com
WOIMA
Henri Kinnunen
CEO
Mob: +358 40 835 8974
Email: henri.kinnunen@woimacorporation.com
About WOIMA
WOIMA Finland Oy is the disruptive force advancing the waste-to-value sector for the benefit of everyone involved. Our innovative modular and standardized solutions fit the current market requirements perfectly. Our cooperation with Sumitomo SHI FW Energia Oy ("SFW") ensures global delivery capability for all our products. Combining the strengths of WOIMA and SFW enables the utilization of each waste stream to its fullest potential, either as raw material or as energy.
For additional information, please refer to the WOIMA website at www.woimacorporation.com
About CO2 Capsol
CO2 Capsol is a technology provider offering cost competitive, energy efficient post-combustion carbon capture technology based on the proven, safe, and environmentally friendly HPC (Hot Potassium Carbonate) solvent. Capsol EoP (End of Pipe) is a scalable and flexible technology for carbon emission from sources like waste-to-energy (WtE), biomass, cement, steel, LNG, hydrogen, and chemical industry plants.
CO2 Capsol is quoted on Euronext NOTC in Oslo (symbol: CAPSOL).
For additional information, please refer to the CO2 Capsol's website at www.co2capsol.com