Use Case: Decentralized Waste-to-Energy Solution
Waste is typically available in abundance everywhere. Urbanization and economic growth are the main driving factors behind accelerated waste generation. Waste could act as a raw material for manufacturing industries or as fuel for power production. But, the challenge lies in the collection, transportation and sorting of the waste.
One of the key barriers to economic development  in many countries is the lack of energy. It is a vicious circle really; lack of energy means low manufacturing rate, which translates to weak exports and shortage of foreign currency for fuel import purposes. And building power generation facilities alone is not enough. There must be a simultaneous power distribution network development plan as well.
A combination of locally available fuels, decentralized power production and electrical micro grids is the right solution for the problem. Waste can be the local fuel available for power production.
Read Decentralized Waste-to-Energy Solution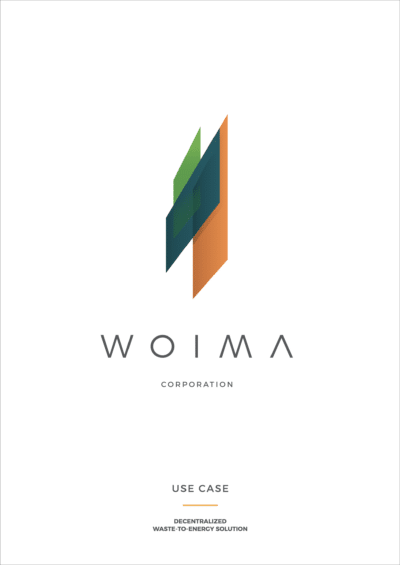 Follow us in Social Media
  WOIMA Youtube channel
  WOIMA LinkedIn page
   WOIMA Twitter page
   WOIMA Facebook page
Waste Management
Creating new business potential
Simplifying waste logistics
Reducing environmental impacts
Matching future regulations
Postponing landfill investments
Green image benefits
Power & Utility
Decentralizing power generation
Enabling off-grid solutions
Offering fuel & production flexibility
Harnessing endless fuel source
Utilizing carbon credit schemes
Fast plant delivery
Investors
Excellent return on investment (ROI)
Scalable business model
Diversified investment portfolio
Vendor arranged funding
Fast project roll-out
Plant relocation option
Other Stakeholders
Turning waste into local welfare
Health & environmental benefits
Local reliable energy supply
Educational & job opportunities
Improving living conditions
Implementing development funding