USE CASE: LANDFILL MINING AS BASE LOAD POWER FUEL SOURCE
Pulp and paper mills are generating millions of tons of solid waste fractions across the globe annually. These waste streams are difficult to recycle as raw materials or utilize in the mill process. The next best thing is recycling them into energy. The mix of the different wastes is a perfect fuel for the wasteWOIMA® waste-to-energy power plant. The robust grate incineration allows for large variations in the fuel mix generating energy for the mill processes. For sites, where the paper machines or pulp equipment have been decommissioned, dismantled and facilities sit idle, the modular WOIMAline boiler island can be installed in the vacant space.
The pulp and paper mills' production residues consist of pulper rejects, paper and bio sludges that are utilized most efficiently by recycling them into energy on site. This way their environmental impact is minimized, while meeting the site's energy requirements.
Are you interested in this case? Please download a copy of the use case, for free. Click the link below

WOIMA Use Case Pulp and Paper Mill Waste to Energy
See all use cases and other downloadable contents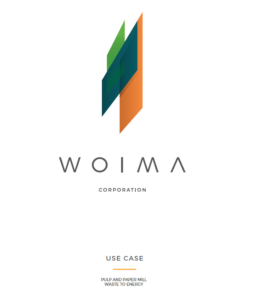 Follow us in Social Media
  WOIMA Youtube channel
  WOIMA LinkedIn page
   WOIMA Twitter page
   WOIMA Facebook page
Waste Management
Creating new business potential
Simplifying waste logistics
Reducing environmental impacts
Matching future regulations
Postponing landfill investments
Green image benefits
Power & Utility
Decentralizing power generation
Enabling off-grid solutions
Offering fuel & production flexibility
Harnessing endless fuel source
Utilizing carbon credit schemes
Fast plant delivery
Investors
Excellent return on investment (ROI)
Scalable business model
Diversified investment portfolio
Vendor arranged funding
Fast project roll-out
Plant relocation option
Other Stakeholders
Turning waste into local welfare
Health & environmental benefits
Local reliable energy supply
Educational & job opportunities
Improving living conditions
Implementing development funding