Culture which sets us apart
WOIMA Corporation aspires to improve quality of life both locally and globally, as well as empower people to utilize waste as a commodity. We have developed solutions to reach these goals, but without our culture ​​we cannot truly achieve those. Our culture is which sets us apart.
Our essence of everything are the WOIMA values; Sisu, Pioneering and Accountability. People that deliver beyond expectations are our key players. We value people who gets things done and provide freedom to drive given objectives with responsibility and authority to make it happen. We are highly organized but not confined and we focus doing the right things. There is always room for learning and development, but we never forget to give recognition to our WOIMA people and other stakeholders. We value out-of-the-box thinking and speed to make innovative solutions to match changing Customer needs.
SISU
Sisu and sauna. Those two Finnish words that can be found in an English dictionary and those define Finnish mentality and national character. Sisu means determination in the face of adversity. Sisu is a combination of courage, perseverance, extreme persistence and initiative that is strong enough to defy the elements. In Finland, Sisu runs in our blood.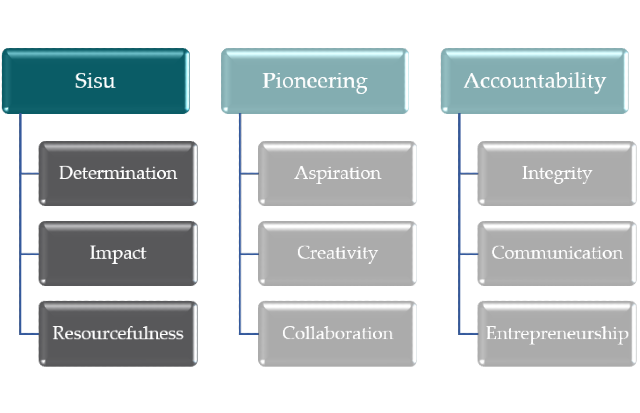 Sisu is one of the WOIMA Corporation values and this value is part of everything we do. At WOIMA we use sisu every single day. We push our boundaries and approach challenges head-on. Sisu boosts our progress, keeps us on course and it makes us to take one step further. Every member of our team is determined to challenge themselves and sisu promotes us in our mission to increase wellbeing in emerging countries by delivering best-in-class circular economy solutions. With sisu mindset, you can make well thought-out decisions on time or come to sensible conclusions despite uncertainty. Sisu gives you capability to plan wisely, think strategically, define what you are supposed to do and what not and it allows you to prioritize wisely what needs to be done right now, and what can be improved later. It also lets you to focus on great long-term results.
As a value, sisu boosts performance and achievements. It gives you courage to get to the bottom of things and resolve root causes. Perseverance makes you to perform strong consistently, you can accomplish amazing amounts of important work, make tough decisions and take calculated risks. Most of all, with sisu, you can achieve greater results.
PIONEERING
Pioneering as a value for WOIMA is about being in the leading edge of development. It means that we strive to push the envelope how Waste-to-Energy solutions and Ecosystems are engineered and delivered sustainably around the world.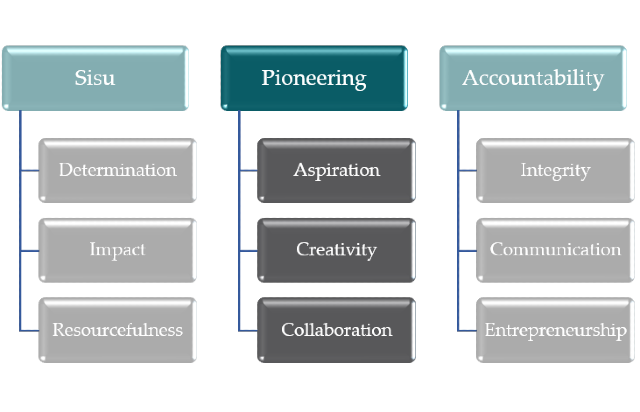 The first cornerstone of Pioneering is the Aspiration of our employees to improve the Wellbeing of our Customer's locally and globally. Our team shares the tendency to be inspired by our mission which also fuels our motivation to learn and apply new knowledge constantly, in order to be better equipped to serve the Customers of tomorrow.
Secondly, we encourage our team to pursue Creativity, in terms of thinking outside the box or by smartly questioning the prevailing assumptions when envisioning new innovations. We believe that by having creative mindset together with the focus to understand our Customers, market and our partners, we can generate something exceptional for the benefit of the Customer now and in the future.
Lastly, when embarking on the road of Pioneering, every member of our team matters as true strength relies on good Collaboration. First of all, the quality of communication is something which cannot be stressed enough even still to this day. Sharing information openly and proactively among your colleagues is paramount to enable the team to succeed. Each team member at WOIMA must always consider the effectiveness of the unit, meaning that it is essential to possess a helpful attitude towards a fellow employee and interest towards value-added activities outside your core responsibilities.
ACCOUNTABILITY
Accountability, as a value for WOIMA, is about delivering what we promise. We consider that delivering our promises is best secured by our embedded personal values of Integrity, Communication and Entrepreneurship.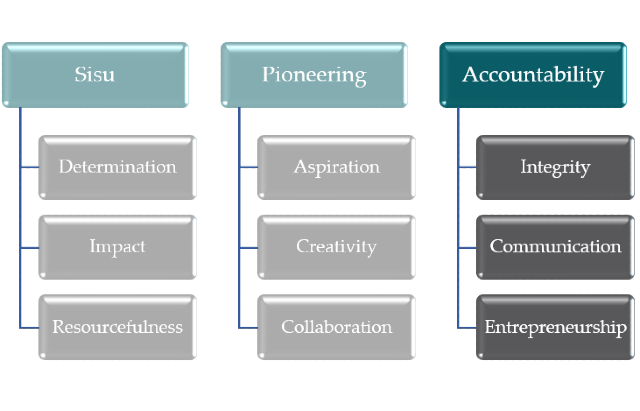 At WOIMA, Integrity is not only about doing your best when no one is watching, rather it is equally vital to say what you think even if there is risk for debate, especially when your opinion might not represent the popular opinion. We respect those who provide different perspectives and views no matter where they come from, as we see that it will eventually serve the quality of our decisions. On top of having low barrier for various opinions, we hold in high esteem individuals who have the backbone to easily admit mistakes and get past it in case one's judgement might have been initially misplaced. And most importantly, everyone must question actions which are inconsistent with one's and WOIMA's values.
All our operations are highly dependable on Communication which is naturally the reason we highlight it as one of our key personal values. Coherent and articulate transfer of information must be infused in your behavior which serves your team to act on clear baseline. We underline the importance of paying attention to what your colleagues have to say, instead of rushing into fast conclusions. Communication does include also the quality of tools and the way of work how information and knowledge is accessible and exchangeable between all teams if needed preventing siloed disconnected units that are unaware of the crucial information being addressed elsewhere in the organization.
We share Entrepreneurship mindset in WOIMA which means we care about WOIMA and its people as an Entrepreneur. Our united entrepreneurial spirit seeks what is in the best interest of WOIMA day after day. We have years of experience in projects around the world, and most of all, we know how much effort it takes to be successful as an individual and as a team especially when something new is being pioneered which we consider being an unique trait for entrepreneurially minded people.
We believe these emphasized values support our mission to improve quality of life both locally and globally by generating sustainable and renewable energy for those who need it the most while eradicating the waste induced problems around the world.