Press release
Espoo/Vaasa, Finland
Sumitomo SHI FW (SFW) has taken a further step in bringing modularized Hot Potassium Carbonate carbon capture plants to market. SFW has signed an agreement with WOIMA Finland Oy (WOIMA), extending the cooperation of the companies to carbon-neutral and even carbon-negative energy solutions worldwide.
SFW has obtained the small-scale modular plant design developed by WOIMA for post combustion carbon capture. The companies have also agreed on a cooperation wherein WOIMA will support SFW in extending the capacity range of the modular plant design to about 200 000 tons or more of CO2 per year.
Carbon capture is recognized by the IPCC as an essential element in the mix of abatement technologies to reduce CO2 emissions and limit global warming to 1.5 ºC. The IEA has estimated that over the next thirty years, more than 6 Gigatonnes of annual CO2 capture capacity must be built to reach Net Zero by 2050.
The modular carbon capture plant is based on the well-proven Hot Potassium Carbonate (HPC) process, enabling a high capture rate of over 90% with relatively low energy penalty and using a widely available, low-cost, safe, and environmentally friendly solvent. It also enables powering the process with electricity only, reducing the impact on existing plants and enabling energy recovery as hot water for heating.
The HPC plant complements SFW's existing carbon capture solutions including Oxyfuel for Circulating Fluidized Bed combustion and Calcium Looping for the cement and steel industries. With the HPC plant, SFW will be aiming for retrofitting biomass and waste to energy plants with carbon capture, creating potentially negative emissions or providing biogenic carbon for e-fuel synthesis.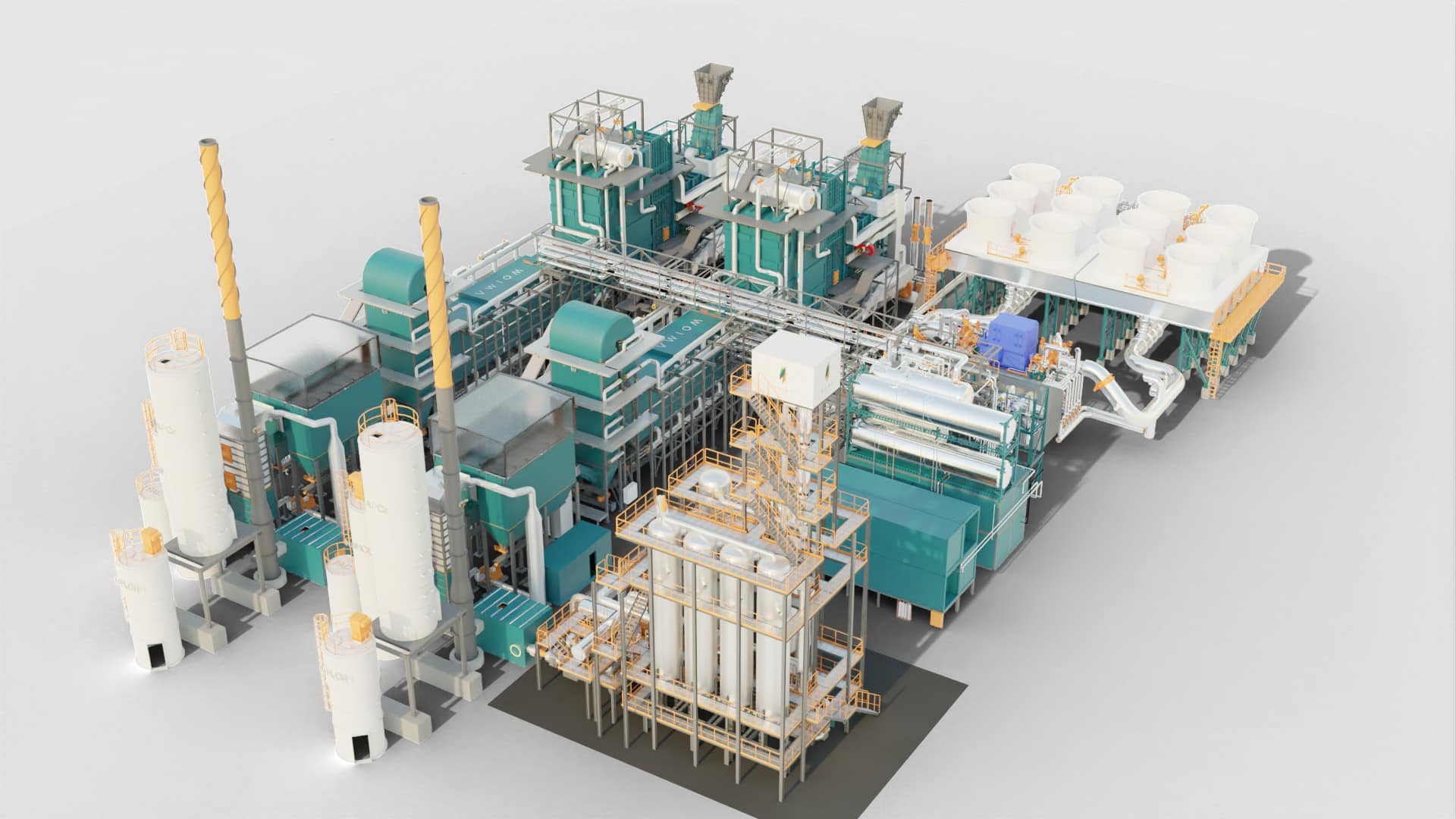 The HPC plant can also be delivered as part of a new-build wasteWOIMA® waste-to-energy plant, branded as ccWOIMA, or be retrofitted to any other CO2 emitting source. The plant design is based on a modular, pre-engineered and prefabricated structure, enabling fast and cost-effective project delivery with high workshop quality.
"This modular plant complements our recently announced partnership with CO2 Capsol, combining it with the flexible Capsol EoP™ process to provide a safe, environmentally friendly and cost competitive Carbon Capture solution", says Tomas Harju-Jeanty, CEO, SFW.
"The energy sector is decarbonizing at an accelerating pace and ccWOIMA was designed to capture this opportunity. SFW will use its global presence and strong track record in the energy sector to expand the potential of this carbon capture solution and deliver it worldwide", says Henri Kinnunen, CEO, WOIMA.
More information
WOIMA: Henri Kinnunen, CEO,
+358 40 835 8974,  henri.kinnunen@woimacorporation.com
Sumitomo SHI FW: Frank Ligthart, VP Strategy and Business Development, Waste to Value, Carbon Capture & Innovation,
+358 40 5619612, frank.ligthart@shi-g.com
READ AND DOWNLOAD ccWOIMA® BROCHURE
________________________________________________________________________________________________
About SFW
Sumitomo SHI FW (SFW) is a global provider of solutions and services that drive the decarbonization of energy. Our solutions include energy from biomass and waste, long duration energy storage, recycling of waste to valuable end products, carbon capture, flue gas cleaning, waste heat boilers, as well as related services to digitalize, optimize, and decarbonize assets that we deliver to the global power and industrial markets.
We strive to provide sustainable energy solutions for customers in a wide range of industries including energy, waste, chemicals, metal, sustainable fuels, cement and pulp and paper. SFW's excellence in delivering projects worldwide rely on our 1,800 talented people, across 20 locations in 14 countries, with deep know-how and experience in the industry.
Powering a decarbonized world for everyone. For more information, please visit Sumitomo SHI FW at shi-fw.com
About WOIMA
WOIMA promotes the carbon-neutral decentralized waste management and power generation model worldwide to ensure that different solid waste streams are utilized to their maximum potential. We develop innovative, standardized, and modular waste-to-value solutions that are easy to transport, fast to construct and simple to maintain. They employ local people using local fuel sources providing power to local people and businesses.
We are networking with agents, project developers, project owners and financing institutions realizing waste-to-value ecosystem projects to reduce waste generation and landfilling in over 30 countries.
WOIMA Ecosystem encompasses all waste-to-value solutions to deliver carbon-neutral, or even carbon-negative, energy commodities and recyclables. For more information, please visit WOIMA at www.woimacorporation.com


WOIMA SOCIAL MEDIA ACCOUNTS

---
  WOIMA YouTube channel
  WOIMA LinkedIn page
   WOIMA Twitter page
   WOIMA Facebook page