Join WOIMA Team– Chief Design Officer
Seniority Level: Experienced
Industry: Renewables & Technology
Employment Type: Permanent
Location: Vaasa or Tampere, Finland
WOIMA is a Finnish tech company challenging the current waste management and power generation practices by designing and delivering innovative state-of-the-art circular economy solutions that will transform that business segment forever. WOIMA will fulfil the emerging countries' quest for renewable energy and revolutionize both the waste-to-energy solutions and the methods of delivering them.
We are looking to hire a Chief Design Officer to fulfil one of the main remaining key roles within our Core team. You will be in charge of the Basic and Detailed Engineering of WOIMA products and will lead the processes to validate the best technologies and their providers of future products.
You will work closely with our Technology and Engineering teams to ensure that the main engineering design points, product performance and features of the plant will be met. You collaborate with Supply Chain and Project teams to support sourcing, procurement and delivery of WOIMA products by providing and integrating the necessary specifications with your and your team's expertise with different suppliers and partners. In addition, you will assist our sales team and end customers, to choose right ecosystem components to find optimal solutions for each project already at sales phase.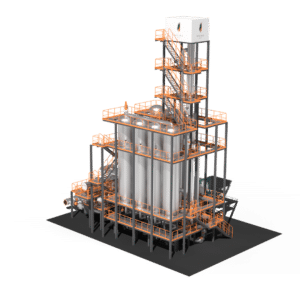 A successful candidate holds at least a Bachelor's degree in Process or Mechanical/Electrical engineering or have related experience. Prior experience with Project Engineering, Plant and BOP Engineering, Balance of plant Calculations, Power Plant optimizations, knowledge of chemical engineering or site works will provide an edge for you. Effective written and verbal communication skills in English will be needed. Understanding various Thermochemical processes and how to integrate them will provide a success in this role. Previous experience in plant operations, boiler business or maintenance would be a good plus as well.
Your main responsibilities as a Chief design officer
Responsible for developing and executing a design strategy that aligns with the overall business strategy of the organization.
Identify key design objectives and initiatives to improve the effectiveness of design efforts, product manufacturability and site assembly through high quality of the technical design drawings and deliverables.
Creating and managing all relevant aspects such as design plans, schedule, budget and prioritizing of resources to ensure that design teams have the means to deliver high-quality work effectively.
Be responsible for the design drawings, deliverables, specifications, technical documentation content with relation to all essential communication interfaces towards customers, collaboration partners, and suppliers.
Be main responsible of WOIMA power plant Engineering Process and of integrator of all relevant Engineering disciplines.
Lead the clarification of viable engineering design points of each project and then oversee that these points and production goals can be met.
Analyse and answer to technical questions and raised issues from customers and suppliers.
To succeed as a Chief Design Officer, you have
Masters or Bachelor's degree in Process Engineering, or related field
Effective written and verbal communication skills in English
Project management skills, including the ability to plan and track project timelines, manage resources, track costs and communicate progress to stakeholders
Strong leadership skills, with the ability to motivate and inspire team members
Excellent problem-solving and analytical skills and ability to develop innovative solutions to complex technical challenges.
Strong technical knowledge in boiler design and engineering principles. Familiarity with relevant industry standards and regulations, such as ASME Boiler and Pressure Vessel Code, National Board Inspection Code, and American Petroleum Institute standard
We offer a competitive package in terms of salary and other perks. This position is also entitled to stock options.
If you feel excited of these responsibilities, fulfil the above qualifications and consider having the right character to contribute effectively to our mission, please proceed further in submitting your application. Please send your CV and cover letter to Henri Kinnunen (henri.kinnunen@woimacorporation.com). All given information is confidential and will not be shared with third parties.
If you need more information, please be in contact with:
Henri Kinnunen
Chief Executive Officer
WOIMA Finland Oy
Mobile: +358 40 83 58974
henri.kinnunen@woimacorporation.com

Read more about us at www.woimacorporation.com
WOIMA Corporation is a Finnish supplier of best-in-class waste-to-value products, projects and services worldwide. We have developed solutions that enable us, and the customer, to transform and recycle virtually any waste stream into raw materials and energy.  At WOIMA we combine Finnish engineering know-how in waste management with power generation design expertise. These solutions are used in Finland every day. They support the circular economy ideology and ensure that less than 1% of Finland's waste ends up in landfills.
Our mission is to improve quality of life both locally and globally, as well as empower people to utilize waste as a commodity. Our decades of international project management experience ensure an on-time, in-budget and high-quality WOIMA solution delivery across the globe.
WOIMA SOCIAL MEDIA ACCOUNTS

---
  WOIMA YouTube channel
  WOIMA LinkedIn page
   WOIMA Twitter page
   WOIMA Facebook page